During each training session with a robot, there comes a moment when you understand – that's enough, it's time to stop :-). You go to the phone to press the Stop button – but it's hidden somewhere at the bottom of the screen, and pressing it is not so simple.
In my case, that happens all the time. So why not fix the situation? The new version of the TenniRobo application offers 2 additional convenient ways to stop the robot, which are configured from the App settings menu.
This menu is available in Android since version 1.16, and in iOS since version 1.14.
BIG "Stop" button
After starting shooting, the app automatically begins tracking your activity – do you press any buttons, do you change some settings, etc. A very large Stop button is automatically displayed after some time of inactivity – now it's much easier to find it. If you don't want to stop the robot and want to come back to the app – just tap any area outside the button.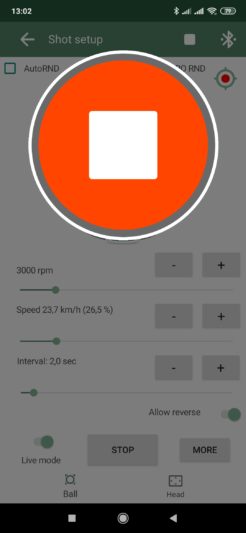 The time of user inactivity is configured from the "Stop settings" menu in the "App settings".
Shake to stop
You can also stop the robot by simply shaking the phone. This function is intended for those phones whose screen is automatically locked or turned off. At the same time, it lets you shake a tired hand if you strained it during training! 🙂