Before I tell you about the new app version, I have to apologize to all people who have been waiting for the next shipping batch. All this time I have been waiting for Bluetooth modules (for robot) from China – they were ordered in January, but UTEC shipping company hasn't delivered the parcel yet (although it has been in Ukraine since February…). Once I get them – I will contact all of you about payment and shipping.
Well, let's talk about the good news! I haven't wasted time  – I've been tightly working with the TenniRobo mobile app. So, I improved some quite important things and added a few really useful functions, according to your feedback. All users from the Alpha testing program can update the app from Googe Play now!
The new functions.
My favorite new function – "Sample shot". Now you don't have to start a drill every time when you want to try a shot. Do you see this red button? 🙂 Well, when you press it, your robot makes one shot with current settings and automatically stops shooting.  And even more – you can try any saved shot before you load it. It dramatically reduces the time for preparing a robot for training.
The similar button has been added for any drill. Before this update, when you were creating a new drill, you had to upload the drill to robot's memory in order to try it. Now you can run your drill just from "edit drill" page with "Drill sample mode" command. And even more – you are able to try any your saved drill without loading it at all. Just press a red button near your drill, and your TenniRobo will fire each shot from this drill one by one, and then stop. This is really useful when you are not sure if this drill is good for current robot location
Now you don't have to open a menu to edit a drill in robot's memory, or to run the drill. With shortcut buttons (on the right) you are able to do it  with one click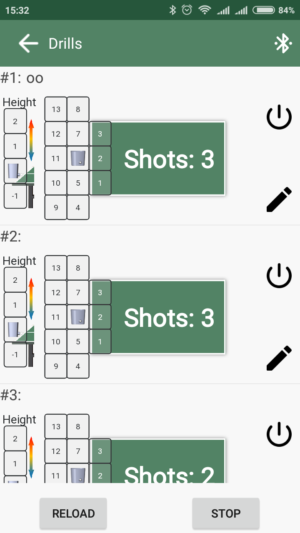 Have you ever powered off your robot occasionally? When it happens, you must reconnect it again. Or you've just run the app and want to connect your robot via Bluetooth? Now it's super easy to do it! Just press the "reconnect" button and the app will automatically connect to the last used robot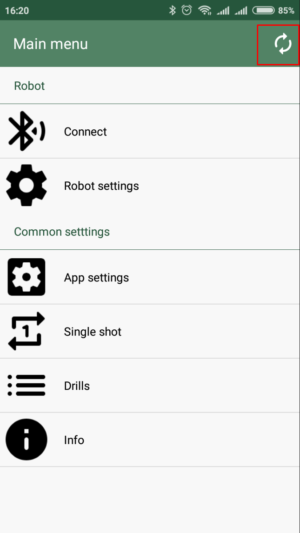 TenniRobo has a few hidden functions in the Engineering menu. After a few requests from users ( Hi Tanner! 🙂 ), I opened one of them. It is the "optical sensor" settings menu. If you use your TenniRobo either in a bright (a lot of sunshine) room or your robot shots a few balls instead of one, it may be useful to coerce these settings
Some UI changes
As part of the first IOS app release preparation, I had to unify user interface for both applications (Android and IOS). As you've already seen on the screenshots above, tabs for ball settings and ball zone moved to the bottom.
The same UI will be in the new IOS mobile application, which is going to be released soon – it already works on my iPhone 6s, but I need some time for publishing it in the AppStore.
I will tell more about it in the next update!